Packaging, paper and co-packing firms are being urged to join a "70 million paper bottle revolution" after British sustainable packaging company Frugalpac unveiled the world's first spirit and olive oil in paper bottles.
Silent Pool Distillers became the first drinks company to sell a spirit in Frugalpac's Frugal Bottle for its Green Man Woodland Gin, launched on Earth Day (April 22) and Greek Olive Oil producer Aeons has just unveiled the first oil in a paper bottle, AEONS Exclusive Paper Bottle. They will be joined by Scotland's NB Distillery who are launching the first low carbon AND low alcohol botanical spirit in a paper bottle called School Night.
The vineyard behind the first wine in a paper bottle, Cantina Goccia, said it's been such a success they'll now produce at least 50% of its wine in Frugal Bottles and have unveiled a white wine in a paper bottle, CELI.
Frugalpac has enquiries to make 70 million of its Frugal Bottles and is calling on paper, packaging and co-packer companies to meet the increasing global demand for paper bottles by buying their own Frugal Bottle Assembly Machines. Polling by Survation found that 63% of UK wine drinkers would buy wine in a paper bottle.
Frugalpac is currently making paper sake bottles for Japan, olive oil bottles for Greece and has four more wine brands in the US, Spain and England looking to launch in the next few months.
The Frugal Bottle, which is five times lighter than a glass bottle with a carbon footprint six times lower than glass, is the world's first commercially available wine and spirits bottle made from 96% recycled paper.
Since launching the first wine in a paper bottle last year, from Italian wine producers Cantina Goccia, demand has soared around the globe. Cantina Goccia saw its Frugal Bottle 3Q wine sell-out twice, with one wine chain, Woodwinters in Scotland, selling its whole stock in just one day.
Cantina Goccia is so convinced paper bottles are the future, it's released their white wine CELI, a blend of Grechetto, Vermentino and Chardonnay in a Frugal Bottle and are set to release a rose in one too.
Frugalpac has strong intent from several international companies to invest in the machine platforms in the next few months.
Frugalpac was recently praised by the UK Government's Department for International Trade's GREAT Britain campaign as one of the UK organisations "doing incredible things to help build a global sustainable future" in the run up to this year's COP26 climate change conference in Glasgow.
And respected wine writer Jancis Robinson recently pointed out in her FT column about wine bottles: "for the sake of the planet we need to look more favourably on the alternatives for wine that is drunk within days or weeks of purchase."
Frugal Bottles are being produced at a new manufacturing facility in Wickham Market near Ipswich owned by Group Roland.
Frugalpac has also partnered with Silent Pool Distillers to meet orders to fill Frugal Bottles for a growing list of international wine and spirits orders. A dedicated filling line has been installed at their distillery in Albury.
Frugalpac, which is scaling up production to meet worldwide interest for the Frugal Bottle, is calling on bottlers, packaging companies, printing firms and recycled paper suppliers to help them meet this demand by investing in their own Frugal Bottle machine platforms.
Frugalpac Chief Executive Malcolm Waugh said:
"We're seeing a paper bottle revolution. Since launching last June, there's now a worldwide demand for low carbon paper bottles that offer 360 degree banding. Frugalpac has already received enquiries for more than 70 million Frugal Bottles and now we're suppling them for wine, spirits and olive oil."
"So investing in a Frugal Bottle Assembly Machine is a huge opportunity for brands and packaging companies to boost their revenue and profit. We've calculated they could generate over £1.5m in revenue and gross margins of 50% plus.
"Unlike rival paper bottle consortiums, printers, packaging firms and co-packers all have the chance to join the paper bottle revolution, making more sustainable packaging and
generating significant profit and revenue.
"And for UK based companies, the Government's Super Deduction will also subsidise investment in Frugal Bottle Assembly Machines by 130%.
"Our aim is to place Frugal Bottle assembly machines at the heart of a bottling plant, co-packers or local packaging companies so we can reduce the carbon footprint of our sustainable packaging even further and have Frugal Bottle hubs around the world."
NB Distillery's co-owner Vivienne Muir said:
"With so many non-alcoholic spirits being created, we wanted to turn it up a notch so we created 'School Night' – a low alcohol based spirit at 21% abv. It tastes every bit as delicious as our award-winning world's best London dry gin but 50% less alcohol.
"But just as important as being low alcohol, School Night is low carbon. The Frugal Bottle we use has a carbon footprint six times lower than a glass bottle.
"That's important to us as we are a sustainable distillery. We have solar panels on our roof, we collect rainwater to use in our condensers and operate a refill scheme but we wanted to go beyond this to make our bottles sustainable too.
"That's why we chose the Frugal Bottle. Not only is it using 94% recycled paperboard which means 84% less carbon than a normal glass bottle, but its branding possibilities make it very desirable. It is the perfect bottle for School Night. You'll definitely get an A* from Mother Nature if you buy one!"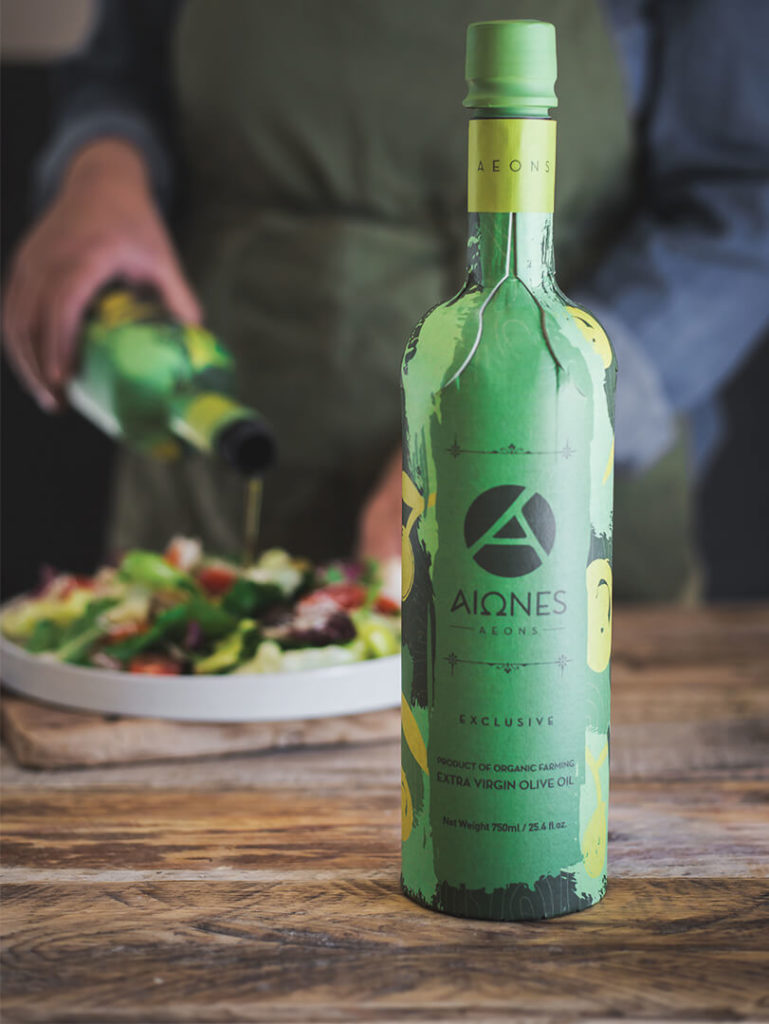 Stefanos Papastergiou, Managing Director of AEONS said:
"We are proud to be the first olive oil company in the world to use a paper botte. Environmental responsibility is fully integrated into every aspect of AEONS Exclusive Paper Bottle. We combine traditional methods of production with modern techniques to respect the sustainability of the ecosystem. Using the Frugal Bottle was a perfect fit for us."
Cantina Goccia's Ceri Parke, said:
"We were delighted to make history by launching the Frugal Bottle with our award winning 3Q wine last year. The feedback from industry and consumers alike has been overwhelmingly positive and we could not be more pleased.
"That's why we've decided to commit fully to the Frugal Bottle and move at least 50% of our wine production into the paper bottle. Wine in paper bottles is going to be a huge market in the next few years so it made perfect business sense to make the move now."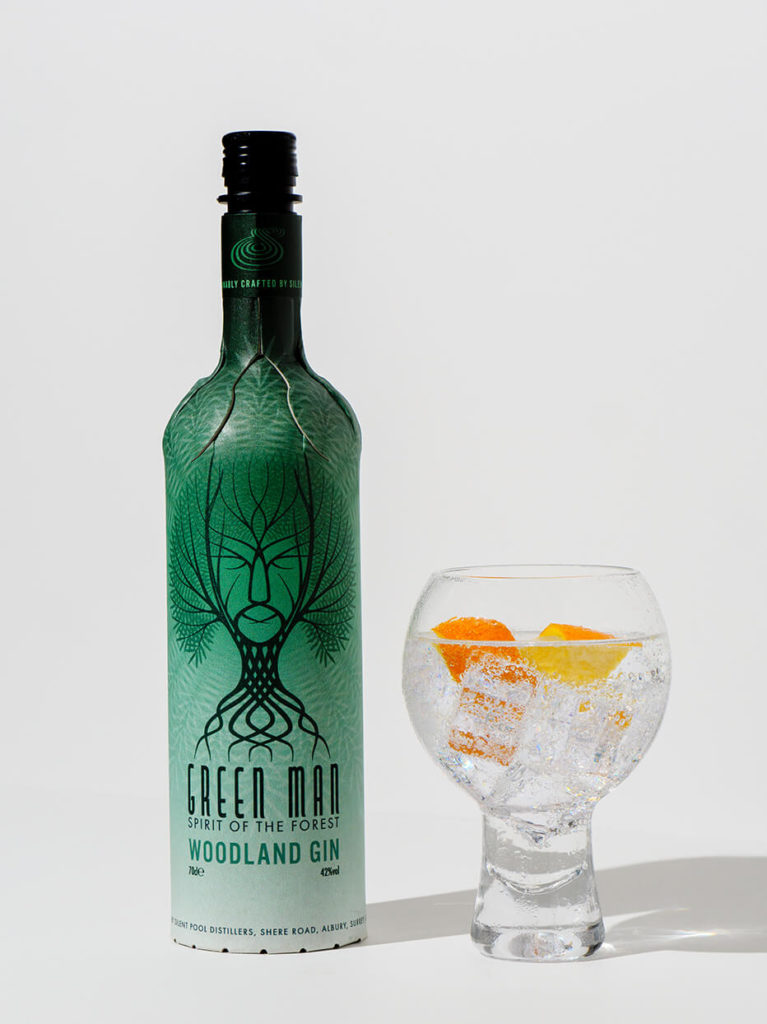 Ian McCulloch, Managing Director of Silent Pool Distillers added:
"As a distillery based in the ancient forests of the Surrey Hills, we know how important it is to conserve nature's resources. So, we're very proud to be helping Frugalpac bring their Frugal Bottle made from recycled paper to a much wider audience with our Green Man Woodland Gin."